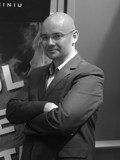 Guest Speaker in INGLASS conference, Aluprof
Project: "Millions m2 of Experience in Aluminium"
Aluprof SA belongs to Grupa Kety SA – the most modern and dynamic corporate group in Poland's aluminium industry.
Grupa Kety SA holds investments in 21 companies in Poland and beyond. Together, we process nearly 70 000 tonnes of aluminium raw materials a year, and deliver our products to clients in many countries in Europe and the World. Grupa Kety SA is the market leader in Poland for aluminium profiles, systems, and flexible packaging. Our approximately 3,300 customers include international corporations, large and medium-sized enterprises as well as wholesalers and trade shops from virtually every industry – ranging from construction, automotive, interior design, and electrical engineering to food industries.
Grupa Kety SA employs some 3,500 experienced, technically qualified staff. Consolidated sale revenue of Grupa Kety SA amounts to 400 million EUR. We export one-third of our output to countries all over Europe and beyond.
Aluprof SA delivers solutions to clients in most countries in Europe and many other countries as well – even to the USA. The company has sales offices and distribution centres in Germany, Great Britain, Ukraine, Russia, Czech Republic, Hungary and Romania.
A key asset is our modern logistics centre in Hungary, which includes a 2,900 m2 eight-story high-rack warehouse.
PHOTO GALLERY