Biography
POSITION
DESIGN ARCHITECT, Schmidt Hammer Lassen Architects, Copenhagen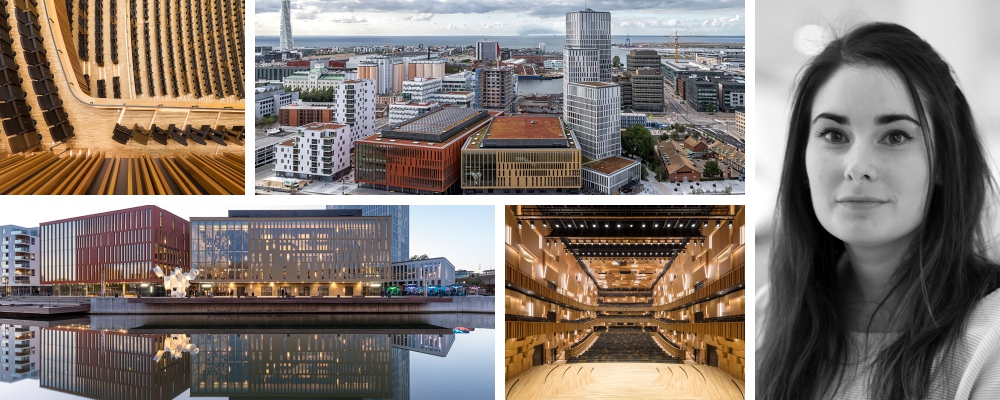 PRESENTATION
"Malmö Live"
The new building complex is situated on Universitetsholmen in Malmo between the old city centre and the new urban developments. The building consists of a composition of cubic volumes that are mutually twisted and given different sizes to meet the directions and building heights of the surrounding city. The facades are designed with a homogeneous expression to make the composition
appear as one architectonic sculpture. The ground floor is open to the public and offers people from the city the possibility to stroll through the building if they are going to a concert, a conference, to the café or just want to make a shortcut. The main entrance is found at the northern part of the building, with a classic loggia-motif facing the plaza in front. From the south you enter
the building directly from the promenade that runs along the canal. The different functions in the building are organised like separate elements – as a little city. Here, the lobby becomes the street that runs through the whole ground floor plan and ties everything together. From the inside, the three volumes that hold the large symphony hall, the flexible hall and the conference hall, will stand as clearly defined elements. The building shapes appear as a three-dimensional composition in laminated wood with warm, red colours.
BIOGRAPHY
Fanny Lenoble was educated in France and USA. She joined schmidt hammer lassen architects in 2015 where she is involved in concept development. Since her graduation in 2009, she has been working for several international and danish offices (OMA, Kengo KUMA, Adept…), where she has been developing her architecture and urbanism skills in competitions but also project development. She has been working on a wide range of projects, from masterplanning to interior design, mainly in educationnal,
cultural, institutionnal and housing projects. She collaborated with schmidt hammer lassen architects in 2012, while she was working for Adept.
AWARDS
Our innovative, sustainable and democratic approach to architecture has attracted global attention, this is reflected in 100+ prestigious, national and international awards received through the years including a WAF 2016 Award /Governor General's Medal in Architecture in Canada/ A+Award 2016/Årets Bygge 2016/Architectural Review MIPIM Future Project Awards 2015/World Green Design Product Award 2014/RIBA National Award 2013/RIAS Award 2013/ArchDaily Building of the Year Award 2011/LEAF Award 2011 to name but a few.
All sessions by Desing Arch. FANNY LENOBLE