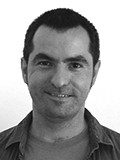 Guest Speaker in INGLASS conference, LTFB Studio
Fondator
LTFB Studio
, Bucharest
Project: "Remodeling the Façade of a multifunctional building" & School of Music & Arts
Liviu Fabian graduated in 2005 the University of Architecture and Urbanism Ion Mincu – Bucharest.
In 2007, he cofounded together with Lucian Luta the Bucharest architecture and design office LTFB Studio.
The most important works of LTFB Studio are: the School of Music and Arts (Bucharest 2012); Dante Alighieri School Expansion (Bucharest 2012) and Façade Remodeling for Multifunctional Building (Bucharest 2014).
The project School of Music and Arts was nominated at the Bucharest National Architecture Biennale 2012 and at the Dobrudja Architecture Annual. Dante Alighieri High School Expansion won the jury's first prize at Dobrudja Architecture Annual in 2012.
Both projects were published in some of the most important national and international architecture publications and were considered examples of good practice in the field of contemporary Romanian public architecture.
Presented buildings : School of Music and Arts and Façade Remodeling for Multifunctional Building.
School of Music and Arts
We focused on some elements we thought important for the project: a fresh image related somehow with pre-war modern Romanian architecture (a functionalist arrangement of volumes with simple gestures), an openness to the exterior through a main interior public space (forum), a very clean partition of disciplines and functions.
The most distinctive space is the forum from the underground, the central space of the school. It's a flexible space. Its skin is transparent towards interior and exterior. The light comes from everywhere, also through a skylight that articulate the white and red volumes. It can be enlarged with the foyer and the drawing and painting space from the ground floor, but also towards the exterior through two performance terraces which link the forum with the street. It can be a space for public meetings, various exhibitions, conferences, courses etc.
Façade Remodeling for Multifunctional Building
The aim of our intervention was to transform an existing "under construction" building, set in a similar context (between a gas station and a car wash) in an urban landmark with structuring role.
The existing building, which is to be a multifunctional building is located in the proximity of the blocks of flats in the area known as "Ilioara", on the road leading to the "Soarelui" highway , the main road to the seaside.
The idea was to unify and simplify the gestures and the overall image of the building. The horizontal lines on the 1 to 3 stories, which transforms in solar shadings in front of the windows, are designed so as to achieve a gradual transition from plain surface to perforated surface, unifying with a single gesture all the four facades.
As distinct elements were kept the ground floor and top floor. The 4th floor is a fitness hall, with al four sides forming a continuous glazing wall, from which one can have a panoramic view of the entire area.
Although constrained by the existing structure, the intervention succeeds, using some simple elements to dramatically change the character of the building and thus to contribute on the ordering and "cleaning" the urban landscape.
PHOTO GALLERY